Saya cuma ada satu persoalan....bolehkah Nabi MUhammad SAW dilakar sebegini rupa?...gambaran dibawah adalah ketika Nabi Muhammad naik kelangit..iaitu peristiwa isra' mikraj
Saya musykil..kerana ada yang mngatakan ini adalah gambaran AL-BIRUNI dan beberapa pelukis Islam lain....
Mohammed (upper right) visiting Paradise while riding Buraq, accompanied by the Angel Gabriel (upper left). Below them, riding camels, are some of the fabled
houris
of Paradise -- the "virgins" promised to heroes and martyrs. This image and the following five images are Persian, 15th century, from a manuscipt entitled
Miraj Nama
, which is in the Bibliotheque Nationale, Paris. Taken from
The Miraculous Journey of Mahomet
, by Marie-Rose Seguy.
Mohammed, flying over Paradise, looks at the houris harvesting flowers and enjoying themselves. Persian, 15th century.
Mohammed, along with Buraq and Gabriel, visit Hell, and see a demon punishing "shameless women" who had exposed their hair to strangers. For this crime of inciting lust in men, the women are strung up by their hair and burned for eternity. Persian, 15th century.
Next, Mohammed sees women strung up by hooks thrust through their tongues by a green demon. Their crimes were to "mock" their husbands and to leave their homes without permission. Persian, 15th century.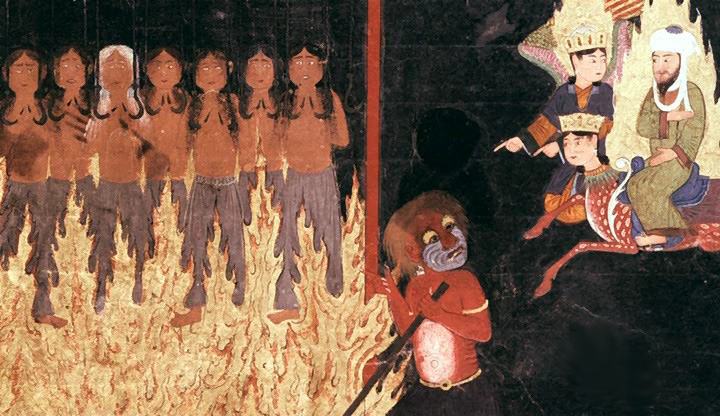 Further on, Mohammed sees a red demon that is torturing women by hanging them up by hooks through their breasts, as they are engulfed in flames. The women are being punished for giving birth to illegitimate children whom they falsely claimed were fathered by their husbands. Persian, 15th century.
Mohammed (on the right, astride Buraq) and the Angel Gabriel (center) talk with Abraham (left) in Paradise. Persian, 15th century.
Jadi saya nak tanya..adakah gambaran-gambaran seperti ini dibenarkan?...sumber pun saya xpasti...ada yang mngatakan pelukisnya adalah AL-BIRUNI dan lain-lain pelukis islam...
Lebih banyak gambaran di laman web dibawah...
Ada sesiapa boleh bantu?
Sumber :
wikipedia
,
Zombietime?